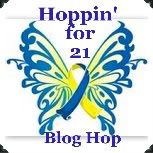 Today, on the 21st of this month of celebrating Down Syndrome Awareness, I am honored to be part of a blog hop.
If you've hopped here for the first time, Cora and I welcome you! Scroll down for previous posts to read more about us.
If you're a reader of my blog and would like to check out other blogs that are also honoring 31 for 21, just click on the button above. (And if you like a post, leave a comment or even become an official follower.) What better way to raise awareness than to visit the blogs of other families that are posting about their lives with people with Ds?
Woo hoo! Cora thinks this is gonna be fun!